Not Zero - ORIGINAL CONTENT
By:

Posted On:

Mar 28, 2023 at 7:00 AM

Category
The Biden Administration has set a goal of achieving Net Zero US annual CO2 emissions by 2050. To accomplish this goal, the Administration has decreed that all coal-fired electric generation would cease by 2030; and, that all natural gas fueled electric generation would cease by 2035. The Administration has also decreed that all new vehicles sold in the US after 2035 would be electric vehicles. There is also an effort underway to end the use of natural gas for applications other than electric generation, including virtually all residential, commercial and industrial end uses. Incentives have been put in place for EVs and electric appliances and equipment, as well as for wind and solar generation and electricity storage.
Achieving the Administration's goals would result in a US energy economy based solely on electricity, generated by a mixture of renewable generation sources including hydro, biomass, geothermal, wind, solar and possibly some nuclear generation.
However, the US Energy Information Administration, an agency of the US Department of Energy, in its Annual energy Outlook 2022 (AEO 2022) projects a very different US energy future, as shown in the graphs below.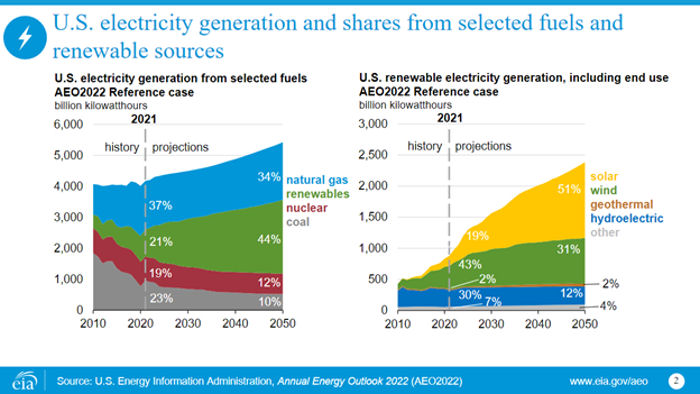 EIA projects that US electricity generation will increase by approximately 32% through 2050, or approximately 1% per year. Natural gas electricity generation would increase to approximately 1,800 billion kilowatthours, or by approximately 20%. Coal generation would decrease to approximately 530 billion kilowatt hours. Renewable generation would increase to approximately 2,400 billion kilowatthours, or nearly 500%.
Virtually all the growth in renewable generation would consist of wind and solar. Wind generation would increase from approximately 344 to approximately 750 billion kilowatthours, though its share of generation would decrease from 43% of renewable generation to approximately 31%. Solar generation would increase from approximately 450 billion kilowatthours to approximately 1,200 billion kilowatthours and its share of renewable generation would increase to approximately 51%. EIA projects virtually no growth for geothermal, hydroelectric and biomass generation.
These EIA projections are fundamentally inconsistent with the Administration's goals of Net Zero CO2 emissions and an all-electric energy economy by 2050. Coal generation decreases, but not to zero. Natural gas generation increases, rather than decreasing to zero. The projected 1% per year growth in US electricity production is consistent with historical electricity demand growth, driven by increasing population and GDP, but not with a major transition to an all-electric energy economy.
EIA's projections regarding natural gas show an approximate 20% increase in consumption in the Reference case, and approximately 50% in the High Supply case, as shown in the graphs below.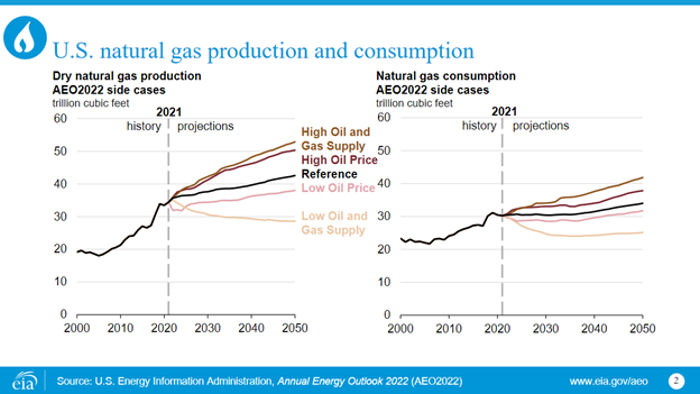 The EIA projections do not contemplate the effects of the Administration's push for all-electric everything, which would require expansion of electricity generation from the projected 5,400 billion kilowatthours in 2050 to approximately 17,000 billion kilowatthours. Growth of this magnitude would require not only increases in generation, but also massive increases in and expansion of transmission infrastructure and major upgrades to existing distribution infrastructure to accommodate the increases in individual customer demand and consumption.