Personal Precautions
By:

Posted On:

Jan 10, 2017 at 9:05 AM

Category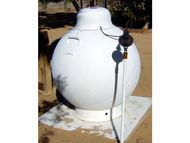 One of the idyllic images cherished by many environmentalists concerned about the climate is life "off the grid", free of utilities, living off the land, minimizing their impact on the planet. However, reality frequently rears its ugly head, blurring the idyllic image.
I recently had the opportunity to spend several days visiting with friends who live on a quarter section in-lot (160 acres), completely surrounded by Bureau of Land Management land. They are not connected to the electric grid, to natural gas distribution, or to municipal or private water service. They do have radio-telephone service; and, satellite service for the internet and television.
They use both dual-axis tracking and fixed solar photovoltaic collectors to provide their electricity; and, they store excess electricity generated during the day in a battery bank to meet their needs when the sun isn't shining. They also had, but have since removed, a wind turbine, which proved to be both inefficient and problematic. However, as a precaution, they also have a propane-powered generator, equipped with an automatic transfer switch to pick up the load when necessary.
They use solar thermal collectors to produce hot water, both for domestic use and as the heat source for the in-floor hydronic system, which provides the primary source of space heating for their home. However, as a precaution, they have both a propane-fueled instantaneous water heater and a propane-fueled furnace, as well as two wood stoves.
Their home is located in an area which receives relatively little rain and snow, so the availability of water is a prime concern. They collect their water from the roofs of their home and garages; and, store several thousand gallons of water in four large storage tanks. They also use composting toilets to reduce water consumption and avoid sanitary water (black water) disposal issues.
Their vehicles are all gasoline-fueled. Electric vehicles would require installation of additional solar or wind generation capacity; and, far greater useful vehicle range.
This is not to suggest that the idyllic life "off the grid" is not possible, but rather that it requires extensive and careful precautionary planning to assure continuous quality of life; and, technological evolution to "fill in the blanks".