Blue/Green New Deal #5
By:

Posted On:

Jun 16, 2020 at 6:00 AM

Category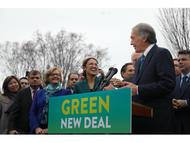 This commentary and those that follow will analyze the programs in each policy proposal which focus directly on minimizing climate change and its effects on society.
Green Stimulus Policy Menu
7. Regulations, Innovation and Public Investment
This policy would establish a green investment bank to fund green energy retrofits and low-carbon investments.
The policy would restore a climate test (SCC) as a metric for federal procurement and permitting decisions.
The policy would provide assistance to colleges and universities to establish green energy degree and training programs.
The policy would streamline permitting for offshore wind farms and provide subsidies for their development.
The policy would also fund microalgae development for use as fuel feedstocks.
This policy would also deal with green bond security, require carbon reduction provisions in bridge loans to corporations, require funds be used to maintain payroll, provide for government equity in in corporations receiving bailouts, require a $15 minimum wage, set aside corporate board seats for labor representatives and require corporations to include climate die diligence in their planning efforts. The policy would also elevate the EPA and NOAA administrators to full cabinet level, dramatically increase ARPA-E funding, and double the budgets for the DOE Office of Energy Efficiency and Renewable Energy and its Office of Science. Again, no cost estimates are provided for the policy.
8. Green Foreign Policy
This policy would expedite aid packages, including green technology transfers.
This policy would end all direct and indirect funding of fossil fuel infrastructure internationally.
This policy would increase funding for the Green Climate Fund.
This policy also ensures fair trade agreements are centered on worker and climate protections, supports local and sustainable farming in the US and internationally, classifies food security as a national security issue.
The policies outlined in the Blue/Green New Deal appear to go far beyond the provisions of the original Green New Deal and this can be expected to exceed the $93 trillion estimated cost for that program, which does not include the ~$60 trillion deadweight loss associated with abandoning fossil fuel resources in place.
The time frame for these policies is repeatedly stated as "by 2030", which is an extremely compressed time frame for achieving the enormous energy economy transition envisioned by the authors. Achieving the objectives of the policy in that time frame would require substantial government compulsion over a broad range of industries.
The authors suggest funding at the level of 4% of US GDP for the effort, but chose not to relate that to the level of increase of various tax vehicles required to provide the funding. It would appear that the funding requirements would represent an approximate 50% increase in the US federal budget over the period. These tax increases would be in addition to the investments required by private industry to meet the goals set forth in the policy.
One can only hope that the global greening affecting forests and croplands is equally effective with the "money tree".