Blue/Green New Deal #2
By:

Posted On:

May 26, 2020 at 6:00 AM

Category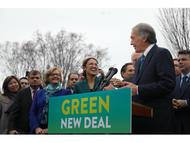 This commentary and those that follow will analyze the programs in each policy proposal which focus directly on minimizing climate change and its effects on society.
Green Stimulus Policy Menu
1. Housing, Buildings, Civic Infrastructure and Communities
This policy proposes massive expansion of the federal Weatherization Assistance Program, as well as support and funding for state level and community level initiatives to promote weatherization of existing buildings. These programs are essentially limited to caulking, weatherstripping, the addition of insulation in attics and over crawl spaces, and the installation of insulation in cavity walls where none exists currently.
The policy also proposes funding for the construction of new, "no-carbon mixed income social housing".
The policy proposes doubling of the Low-Income Housing Tax Credit for the construction of affordable housing, while mandating a zero-carbon standard for the construction process and a low-carbon standard for building materials used in the construction.
The policy proposes funding school building retrofits intended to remove fossil fueled appliances and equipment and replace it with electric heat pumps and other electric appliances and equipment, resulting in "zero-emission" schools.
The policy would require that all government-funded construction projects take into account the potential future effects of sea level rise and increased flood potential resulting from heavy precipitation events.
The policy would require states to adopt the most advanced building codes, including what are referred to as "reach codes", such as the "Zero Code" for commercial, institutional and multi-story residential buildings.
The policy would develop a subsidy and loan program to support decarbonizing buildings and spur development and commercialization of high efficiency electric heat pumps and heat pump water heaters, heat recovery ventilation units, energy efficient lighting.and advanced building controls.
The policy would develop a subsidy and loan program to support decarbonizing construction and advancing carbon sequestration in construction materials.
Finally, the policy would create a Climate Justice Resiliency Fund to "ensure communities are protected from the unavoidable impacts of climate change, beginning with a national survey to identify areas likely to be impacted.
This policy includes numerous other provisions related to utility shutoffs, rental evictions, mortgage and rental payment suspensions, LIHEAP funding, public housing retrofits, creating markets for green building materials, minority and Native American housing, rent-controlled housing, federal zoning regulation reform, green rental subsidies, a green mortgages program, a public housing operating fund, promotion of union jobs, and funding to support unemployed artists and designers. These programs are targeted primarily at the disabled and disadvantaged and would create or expand government at all levels and fund numerous NGOs to achieve their objectives.
The discussion of this policy in the Blue/Green New Deal identifies funding levels for some of the specific policies, but does not make any estimate of the total level of federal funding which would be required to achieve the stated objectives. There is also no estimate of the costs of these policy objectives to those private sector entities, such as building contractors, landlords, electric equipment manufacturers, etc.