Consensus & Science - ORIGINAL CONTENT
By:

Posted On:

Apr 25, 2023 at 7:00 AM

Category
Consensus: general agreement, the judgement arrived at by most of those concerned, group solidarity in sentiment and belief (Source: Merriam-Webster)
Science: knowledge or a system of knowledge covering general truths or the operation of general laws especially as obtained and tested through scientific method, such knowledge or such a system of knowledge concerned with the physical world and its phenomena, the state of knowing : knowledge as distinguished from ignorance or misunderstanding (Source: Merriam-Webster)
One of the most frequently cited memes regarding climate science is that: "97% of climate experts agree humans are causing global warming." This meme originated with skepticalscience.com, but has been repeated in slightly different form by several other sources. Some have even suggested that humans are totally responsible for global warming. This meme clearly meets the definitions of consensus, though it also meets some aspects of science.
Global warming has certainly been occurring since the late 1800s, as measured by near-surface temperature measurements and satellite observations (since 1979), as well as indicated by a variety of paleoclimatic proxies. The paleoclimatic proxies indicate that both global warming and global cooling have occurred numerous times during the past ~4500 years, as shown in the graph below.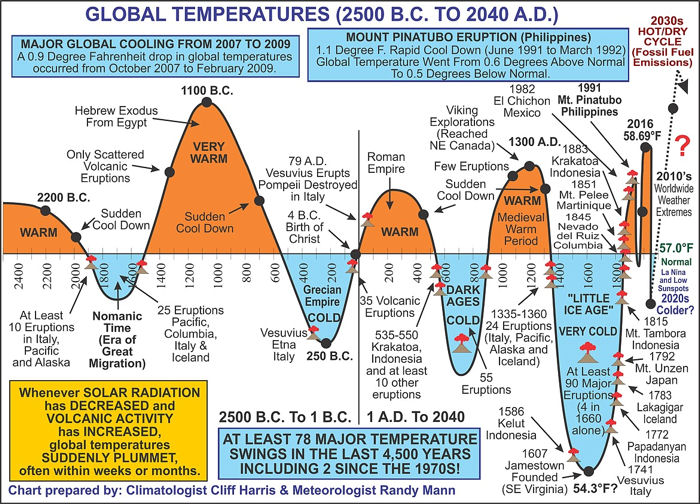 The potential for human influence on climate was hardly considered until the 20th century. The various warming and cooling cycles shown in the graph above, prior to the end of the Little Ice Age (LIA), are assumed to be the results of natural climate variations. However, the "scientific consensus" is that humans are causing the global warming since the end of the LIA, and especially since the middle of the 20th century, at least in part. However, there is no scientific evidence that natural variation in the earth's climate has ceased or even substantially diminished.
There is scientific evidence that certain human activities can influence warming and cooling of the climate, including emissions of so called greenhouse gases (GHGs), emissions of aerosols and land use changes which affect the earth's albedo. The magnitude of these human activities can be measured with reasonable accuracy, but the effects of these human activities on global temperatures can only be estimated.
There is a less pervasive consensus that CO2 emissions are the primary driver of the recent warming, although there is no scientific proof that is the case. Those who are part of that consensus believe that human CO2 emissions must be radically reduced or eliminated to avoid runaway future warming or some undefined "tipping point" leading to a climate crisis. This has led to a limited but vocal political consensus that global CO2 emissions must be reduced to Net Zero by 2050. This political consensus is not supported by the science, or by the governments of many developing nations.
The Intergovernmental Panel on Climate change (IPCC) has developed a consensus estimated range of the sensitivity of global warming to atmospheric CO2 concentrations, although it has recently acknowledged that the higher end of the range of sensitivity estimates is less likely to be correct. The IPCC ensemble of climate models projects a broad range of possible future global temperature trajectories, though there is no consensus regarding which, if any, of those models is accurate.
With regard to global warming, the consensus appears to be stronger than the science.