Does Wind Intermittance Over Short Hourly Periods Gives a Clearer Picture? - Highlighted Article
Posted On:

Aug 3, 2023 at 7:00 AM

Category
From: Watts Up With That
By: Bob Irvine
Date: July 5, 2023

Does Wind Intermittance Over Short Hourly Periods Gives a Clearer Picture?
Cheap intermittent renewables appear to be very expensive.
The current Australian Government has ruled out nuclear energy and is committed to phasing out all fossil fuel base load power with gas seen as a transition fuel to an energy grid run entirely by intermittent wind/solar with battery or pumped hydro storage, with a small contribution from direct hydroelectric base load.
Can any of the electrical engineers at this site estimate the cost to consumers of a system run in this way. Is such a system even possible?
I live in Queensland, Australia. Until 30/6/23 our power bill for general usage was 25.559 Aus cents per kwh. On the 1/7/23 it jumped to 31.724 Aus cents per kwh a rise of about 24%. This is up from about 19 cents per kwh a few years ago.
The long-term picture is not much better. The Australian power price history has a close correlation with the penetration of intermittent generation into the system. See Figure 1, below.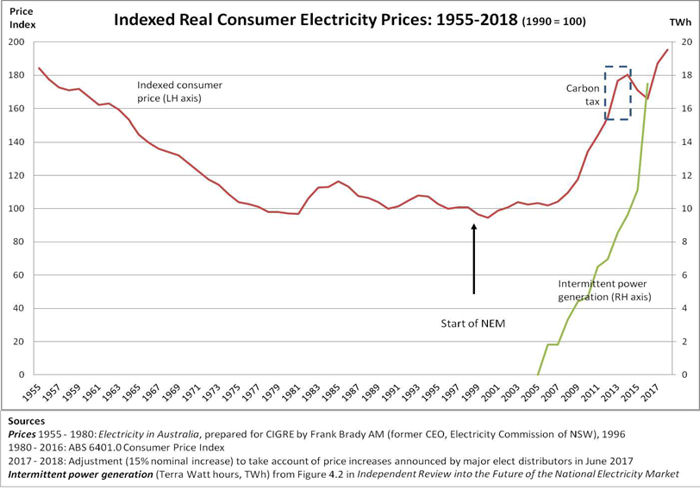 Figure 1, Australian Energy prices compared to intermittent wind/solar penetration into the grid.
The Australian Energy market Operator (AEMO) has been singing the praises of "low cost" wind/solar for many years now.
To counter these assertions, I decided to collate the daily wind energy input to the Main Australian Grid, referred to here as simply the "grid". This Main Australian Grid has an enormous area but does not include the Western Australian grid which is separate and about 8% of the size of the main grid.
My data source is this great site compiled over many years by Anton Lang. Thanks Anton. (continue reading)
Does Wind Intermittance Over Short Hourly Periods Gives a Clearer Picture?