Green New Deal - High Speed Rail
By:

Posted On:

Feb 26, 2019 at 6:00 AM

Category
The GND Line is a mighty good road
The GND Line is the road to ride
If you want to ride you gotta ride it like you find it
Get your ticket at the station on the GND Line
(Apologies to Lonnie Donegan / Rock Island Line)
The "Green New Deal" currently being promoted by socialist Senators and Congresspersons and several Democrat 2020 presidential candidates exists today only as a conceptual framework. A portion of this conceptual framework deals with proposed efforts intended to reduce or eliminate "greenhouse gas" emissions. One of the most challenging of these proposed efforts involves rendering air travel unnecessary, primarily through development of a high-speed rail network throughout the US.
The defining characteristics of a high-speed rail system for the US might be as follows:
new dedicated dual track right-of-way

dedicated station infrastructure

system design for 220 mph operation

no grade level crossings

continuous intrusion barrier

full electronic real-time monitoring

electric powered drive systems
These characteristics are common to high-speed rail systems operating in other countries.
The first step in designing such a rail system would be determining the cities to be connected by the system. Since displacing air travel is the objective, the rail system would have to connect the locations of the nation's most heavily used airports. The connected cities would thus include: New York; Charlotte; Atlanta; Orlando; Miami; Dallas; Houston; Los Angeles; Las Vegas; San Francisco; Seattle; Denver; and, Chicago. Washington, DC would also be included, since this would be a federally funded project. Each of these airports serves more than 40 million passengers per year, or more than 100,000 passengers per day. The route system would then be expanded to include additional cities with significant populations.
The US High Speed Rail Association has developed a US High Speed Rail Plan and maps showing the proposed four stage buildout of a US high speed rail system.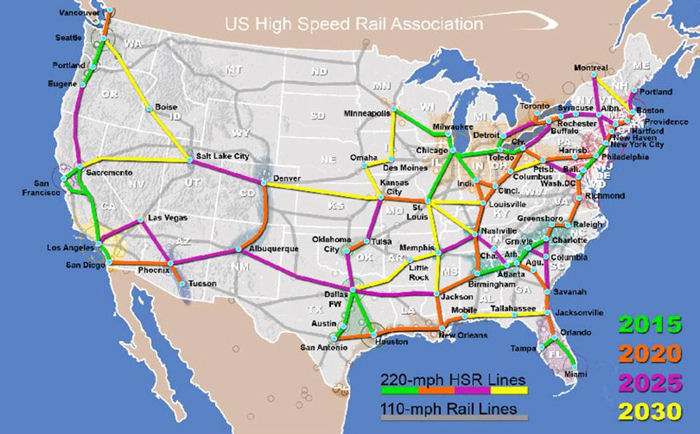 The US High Speed Rail Plan includes most US cities of 500,000+ population in the 220-mph high speed service Cities of lower population are connected by 110-mph feeder lines which would bring passengers to the higher speed system.
The US High Speed Rail Plan (HSRP) envisions a 17,000-mile system which would be completed by 2030, essentially in line with the GND timetable. However, the HSRP assumes that most trips in excess of approximately 1000 miles would be by air, unlike the GND. A cross-country trip of approximately 3000 miles, which would take approximately 6 hours by air, would require approximately 13.6 hours by non-stop high-speed rail.
Developing the investments required to complete such a plan is an extremely time consuming and costly process. However, the recently cancelled California high speed rail system project provides some idea of the estimated cost of a joint Federal/State high speed rail project. The most recent estimate of the complete project cost for the California system is $77 billion for a 520-mile route, or approximately $150 million per mile. Thus, a first estimate of the cost of the 17,000 mile HSRP would be on the order of $2.5 trillion. A first estimate of the cost or approximately 10,000 miles of 110 mph rail lines would be on the order of $1 trillion.
The issue of international air travel is unaddressed in the GND conceptual framework.