Not-So-Green New Deal
By:

Posted On:

Feb 14, 2019 at 11:05 AM

Category
The "Green New Deal" (GND) is the current fascination of the most liberal / progressive / socialist elements of our society and its elected representatives, as well as several declared candidates for President in 2020. The rallying point of the Democrat GND was replacing our existing national energy infrastructure with "clean, renewable, and zero-emission energy sources" by "dramatically expanding and upgrading existing renewable power sources." However, the Democrat leadership has apparently replaced the original specific deadline for US fossil fuel use with a stated intent to achieve net-zero carbon emissions. While this statement of intent sounds somewhat less extreme, it could only be achieved with high percentage carbon capture and storage combined with active removal of CO2 from the environment. Neither technology is currently commercially viable or economically attractive.
The partial removal of the extreme green "rind" from the Democrat GND "watermelon" exposes the nature of its red interior, as described by its originators, Green Party US.
The Economic Bill of Rights

A Green Transition

Real Financial Reform

A Functioning Democracy
Interestingly, the Green Transition envisioned by the GND developed by the Green Party US is not the rallying point of the plan, as it was in the original Democrat version championed by Bernie Sanders and Alexandria Ocasio-Cortez.
Senator Edward Markey and Representative Alexandria Ocasio-Cortez have introduced a Sense of Congress Resolution outlining the major goals of the GND as follows.
A: Achieve net-zero "greenhouse gas" emissions
B: Create millions of new, high-wage jobs
C: Invest in US infrastructure and industry
D: Secure for all people of the US:
clean air and water;
climate and community resiliency;
healthy food;
access to nature; and,
a sustainable environment.
E: Promote justice and equity
These goals are to be accomplished through a ten-year national mobilization. This accelerated schedule virtually ensures that the process would be more expensive than necessary, since much of the technology required to achieve net-zero emissions has yet to be commercially demonstrated. The costs of achieving the remaining goals is a function of the detailed descriptions of specific objectives to be achieved.
Achieving zero-net emissions would impact every aspect of energy production and use in the US economy.
All electric generation consuming coal, natural gas, propane, biomass and municipal solid waste would either require carbon capture and storage or replacement with clean and/or renewable sources. There is significant dispute in the environmental community regarding the retention or expansion of nuclear and hydroelectric generation.
All direct use of fossil fuels in residential and commercial markets would be eliminated, unless new technology facilitating carbon capture and storage at that scale could be developed and commercialized. Otherwise, all residential and commercial space heating, water heating, cooking and laundry drying appliances would have to be replaced by electric appliances; and, incremental clean and renewable electric generating capacity would have to be built to supply their requirements.
All industrial food preparation and heat processing equipment would have to be equipped with carbon capture and storage capability or replaced with electric equipment; and, incremental clean and renewable electric generating capacity would have to be built to supply their requirements.
All transportation equipment, including personal vehicles, trucks, buses and trains would have to be replaced with electric vehicles; and, incremental clean and renewable electric generating capacity would have to be built to supply their requirements.
Offsets would have to be provided for the "greenhouse gas" emissions from processes such as steelmaking and cement production, for which electric process alternatives are not available.
Current electric power generation of all types provides 38% of US energy consumption, as shown in the chart below. The GND would require the replacement of all or most of the remaining 62% of US energy consumption with clean and renewable energy from incremental sources.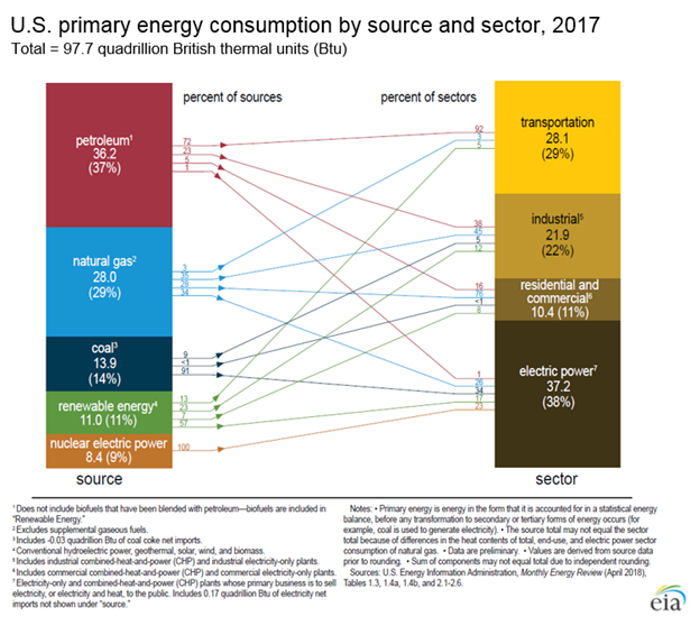 Essentially, the Green New Deal would be the most extensive exercise in "Broken Window Economics" in the history of the globe. I have estimated the investments required to achieve such a transition in the energy economy at $30 trillion, not including the investment in the replacement of equipment and systems which had reached the end of their useful lives. Achieving this transition on the accelerated schedule contemplated by the GND could significantly increase that investment requirement. The lost value of used and useful equipment and systems abandoned as a result of this transition would be very difficult to estimate, but would be enormous, especially in the rapid transition envisioned in the Green New Deal.